Multi-generational Environmental Science Field Experience (MEFE)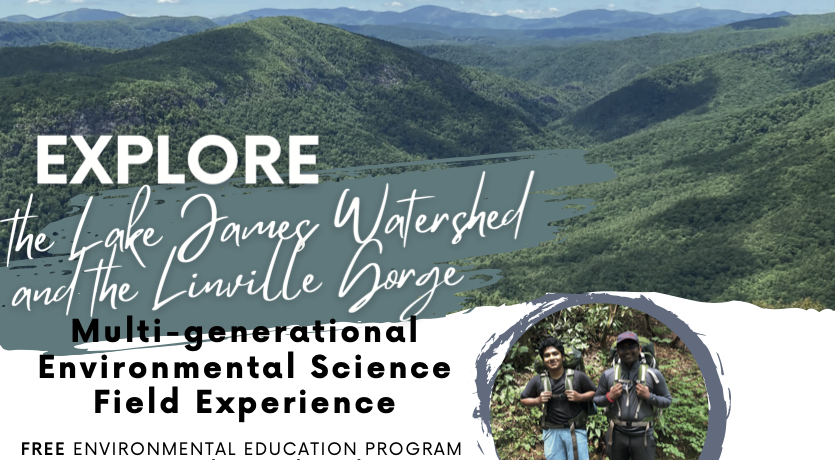 FREE Environmental Education Program
for 10th-12th Grade High Schoolers and College Freshmen (Ages 15-19)
The Multi-generational Environmental Science Field Experience (MEFE) is an environmental science and outdoor adventure program. Students will spend a weekend together studying watershed and riverine science, riparian health, lake ecology, and shoreline habitat and management in the Lake James Watershed. Led by adults working in the environmental field and college student mentors, participants will work in intergenerational teams to collect, analyze, and summarize environmental data from Lake James and the Linville River. This program is offered by Lake James Environmental Association and Montreat College and is funded by a grant from Resourceful Communities and The Conservation Fund. Contact Sophie McCarthy at (828) 475-2735 or [email protected] with any questions.
Each weekend will have a different focus, so applicants are encouraged to apply for all weekends if interested! Click the dates above for the flyer for each weekend (Spanish translation available here). Option to participate in only the day activities is available (please inquire).
Email completed Applications to [email protected].
---
MEFE program partners:
Montreat College
Lake James State Park
Foothills Conservancy of NC
Centro Unido Latino-Americano
West Marion Community Forum
Catawba Riverkeeper Foundation
NC Wildlife Resources Commission
Thank you to our funder, Resourceful Communities, for making this program possible!