Other Considerations
Overall Water Quality Flowing From Our Rivers
The VWIN program covers 146 streams in 8 predominantly mountain counties (arguably some of the most pristine waters in the state). A grade score is assigned by EQI to each stream based on a nutrient score and a sediment score (more on how the scoring is calculated can be found here in the EQI report). In Figure 19 below the scores for the Lake James Watershed rivers are listed.

Figure 19. Scoring of LJEA VWIN Rivers rivers (source: EQI Report)
Figure 20 is the overall ranking of LJEA VWIN rivers compared to the 146 other streams in the VWIN program as well as the meaning of the overall stream grade. Overall, the Linville River ranks excellent, the Catawba ranks average (just one point shy of being ranked in the "Good" category), and the North Fork ranks below average. The averaged river scores of all rivers in the Lake James Watershed is 81 (considered "Good") and (hypothetically) would be ranked 41 of the 146 streams in the program. Overall, "Good" water is flowing into Lake James.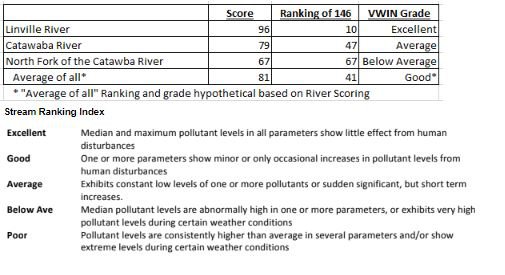 Figure 20 – Ranking of our rivers out of the 146 streams in the VWIN  (Source: appendix D of EQI report)
Crooked Creek Watershed Study
In the spring of 2018, Lake James Environmental Association, in conjunction with Warren Wilson College, worked with Environmental Studies Student Evan Jurick to do a water quality assessment of the Crooked Creek watershed and the impact it may have on the Catawba River and Lake James. The overall conclusion of the study is that "the Catawba River and Lake James do not appear to be threatened by sediment or nutrient runoff in the Crooked Creek watershed." To read the full report click here.