Lake James Sedimentation Mapping
Lake sediment has long been a concern to Lake James boaters, property owners, and businesses.  From the 1970s to 2000 the NC Wildlife Resources Commission operated a public boat landing on the North Fork of the Catawba River. Nearby, close to the mouth of the Catawba River, the Burnette family operated a private boat landing. Over the years these two landings became less and less useful as the upper regions of the lake filled with sediment. The NCWRC closed the North Fork launch and opened a replacement in 2000. While Burnette's Landing is still in use, it is difficult to navigate the moving shoals formed by the heavy sedimentation from the North Fork and Catawba rivers. Similarly, Lake James near the mouth of the Linville River has experienced heavy sedimentation.

For several years, an LJEA volunteer has used his boat and an onboard sonar mapping unit to map the bottom sediments near the mouths of Lake James' major tributaries: Linville River, Catawba and North Fork Catawba Rivers, and Paddy's Creek.  The goals and objectives of this effort include:

       Monitoring the silt build-up in Lake James
       Monitoring the Catawba river channel changing over time.
       Mapping the bottom hardness in river deltas.
       Establishing baseline results for various sites across the lake.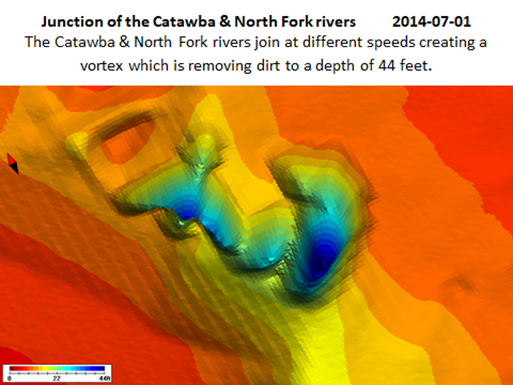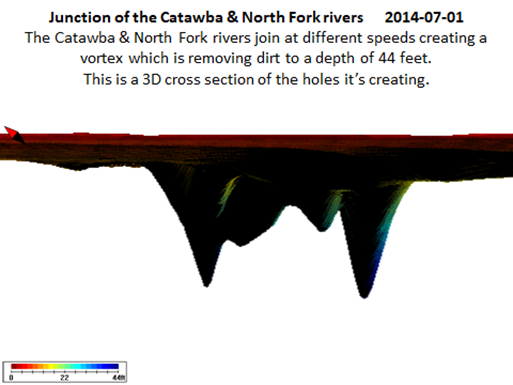 This condition only appeared in 2014 and did not appear in 2012, 2013, 2015, 2016 and 2017 where the bottom remained flat. The vortex holes filled back up with silt.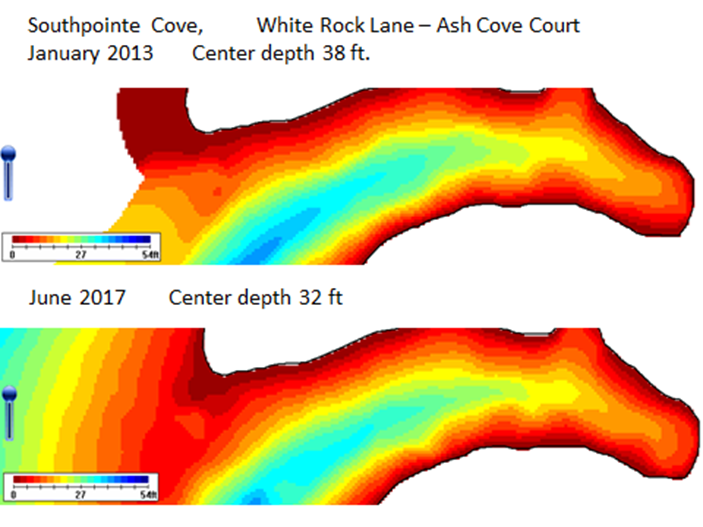 This cove in Southpointe lost six feet in depth over a four year period. The measurements were taken at the same GPS coordinates in the center of the cove.
In 2019 and the coming years, LJEA expects to use the bottom mapping, combined with the turbidity and sediment data it has collected over the years, to quantify an estimate of the sedimentation in the western end of the lake and to examine its impacts. We want to work with land owners and other stakeholders to better understand stormwater management, help stabilize existing erosion sites, and prevent future erosion before it washes away people's land, destroys fish habitat, and gradually fills in the lake.